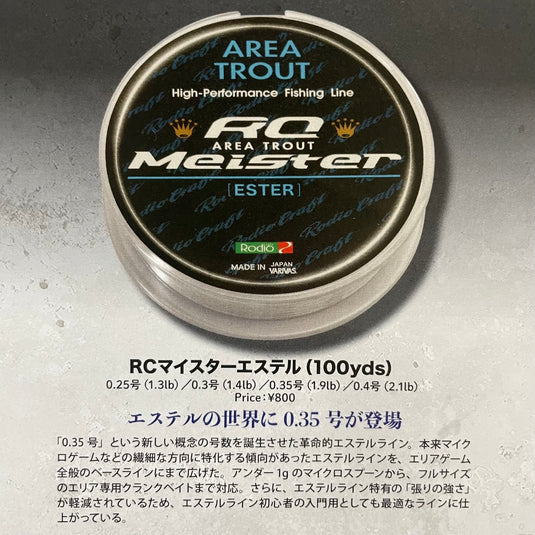 0.35 appears in the world of Esther! ! A legendary line that reflects the ester line in general area games!
◆Spec
0.3 (1.4lb)
0.35 (1.9lb)
◆ Product description
A revolutionary ester line that gave birth to a new concept number called "0.35". Succeeded in expanding the ester line, which had a tendency to specialize in delicate directions such as the original microgame, to a level that can be used as a base for general area games. It can handle from under 1 gram micro spoon to full size area exclusive crank bait. In addition, the "strength of tension" peculiar to Ester is reduced, so it is the best line for beginners of Ester.
◆This is Takeda from Fish Hook!
The phrase "0.35 (Zero Sango)" heard on the podium of the expert race refers to RC Meister Ester. This ester line is loved by many experts because of its suppleness and ease of handling. It is also recommended for micro cranks and magic jerk minnows because it has the advantage of being easy to fly for a distance peculiar to Ester! Be sure to prepare and use a reader.