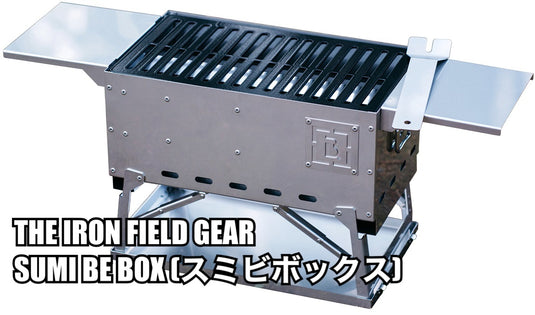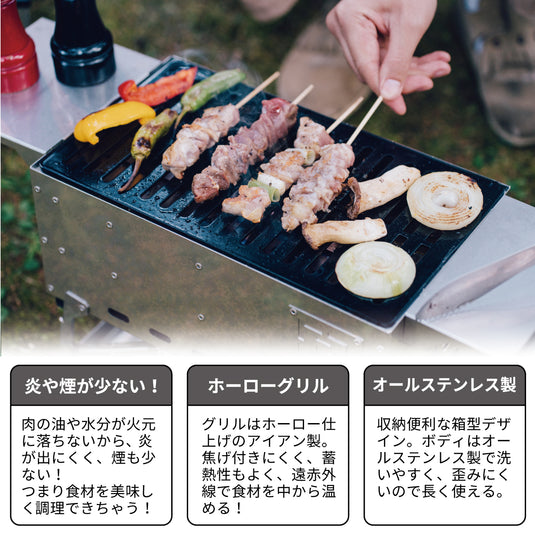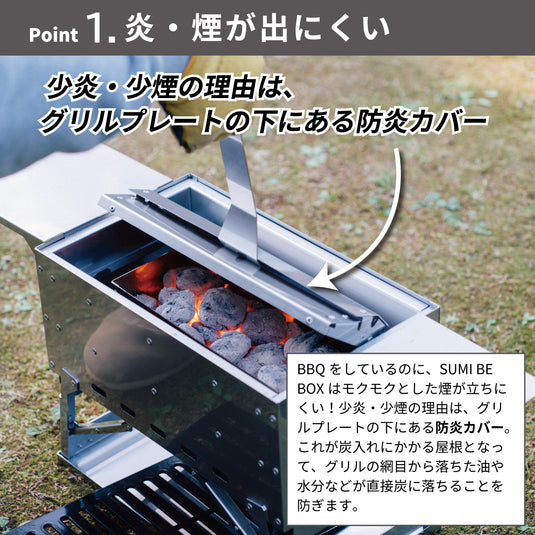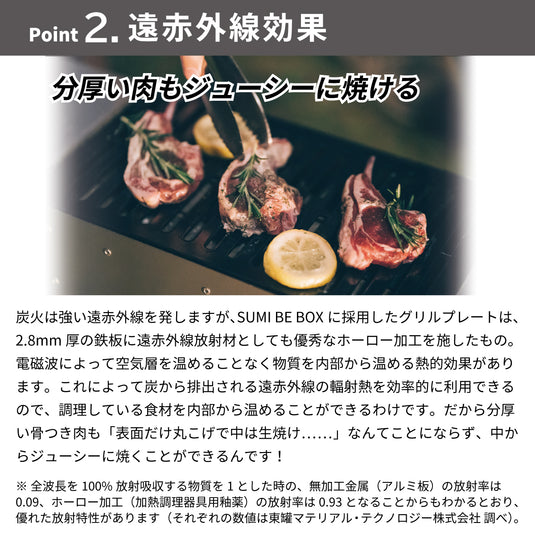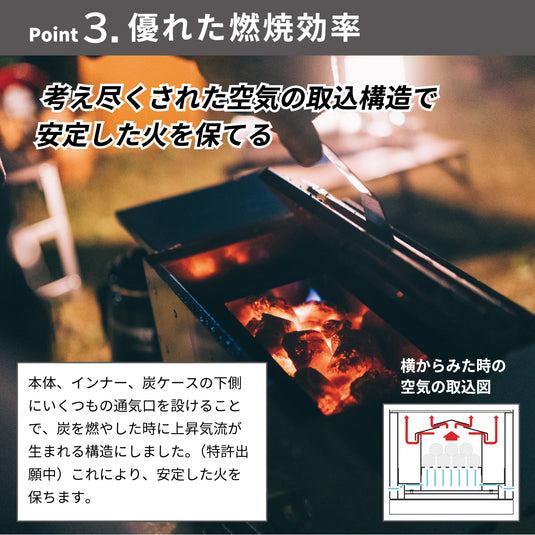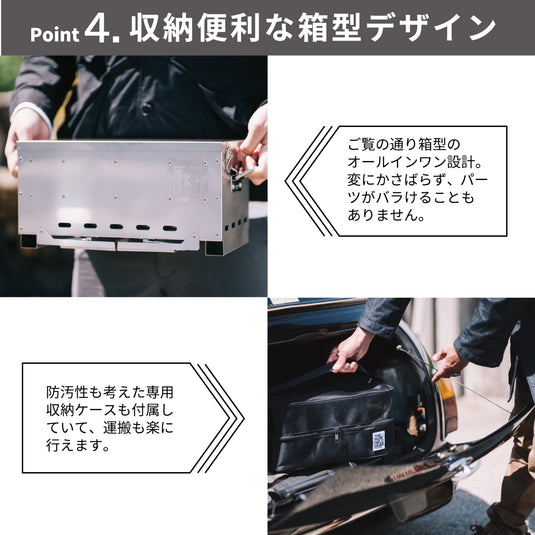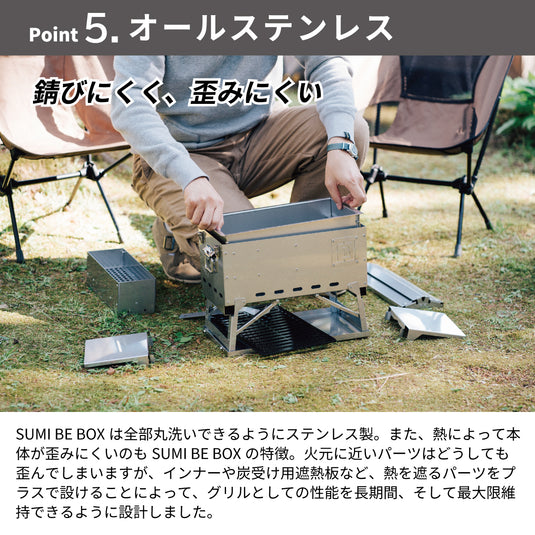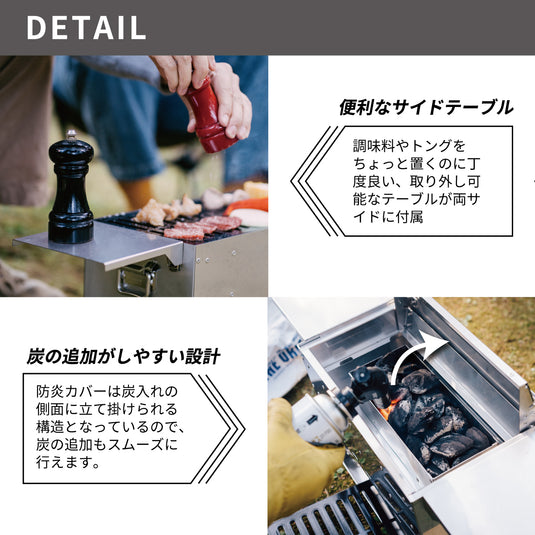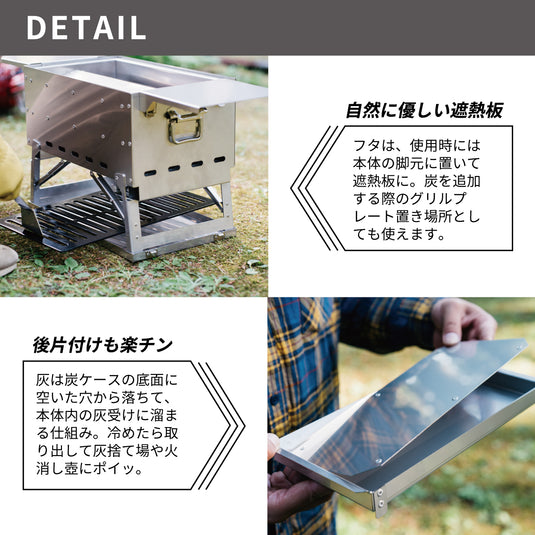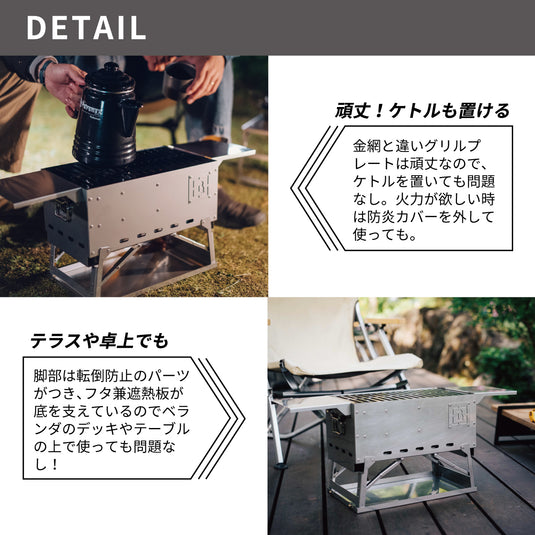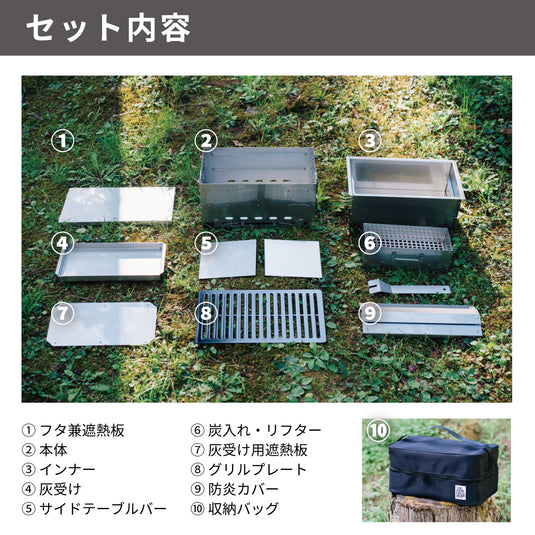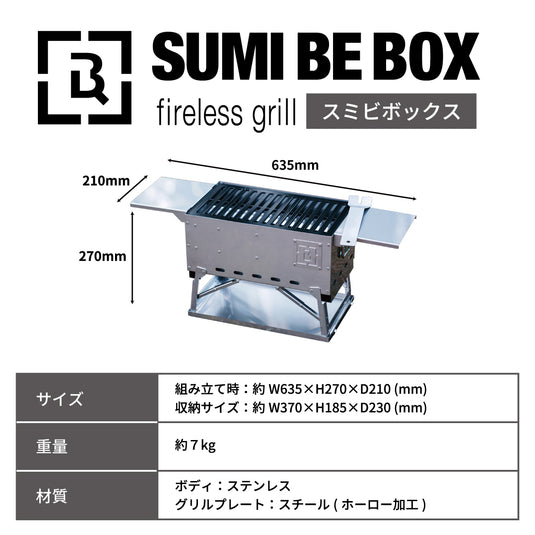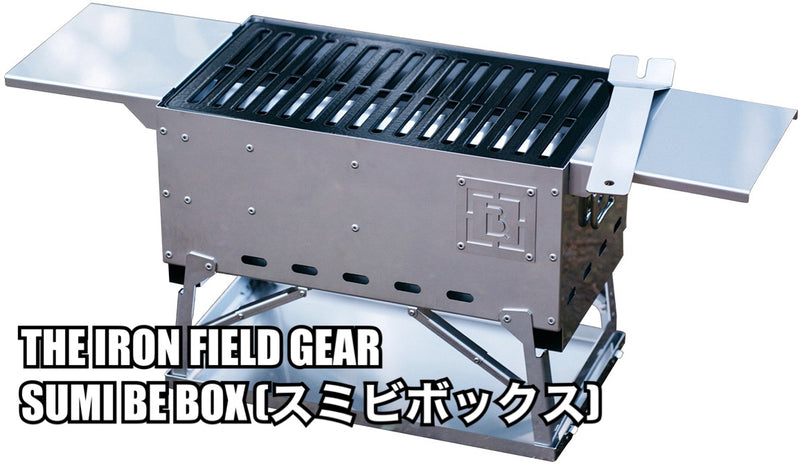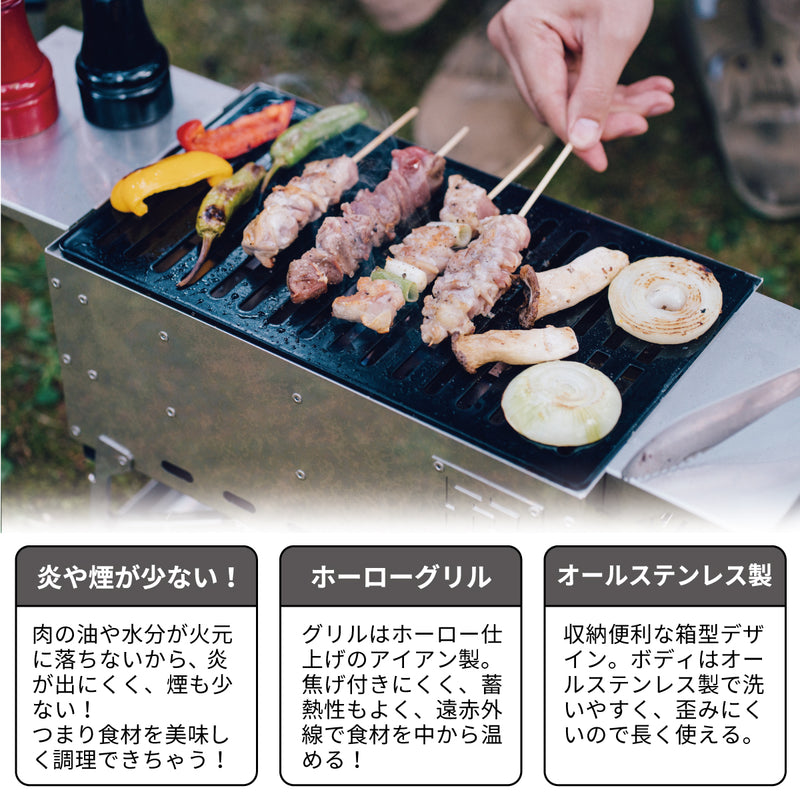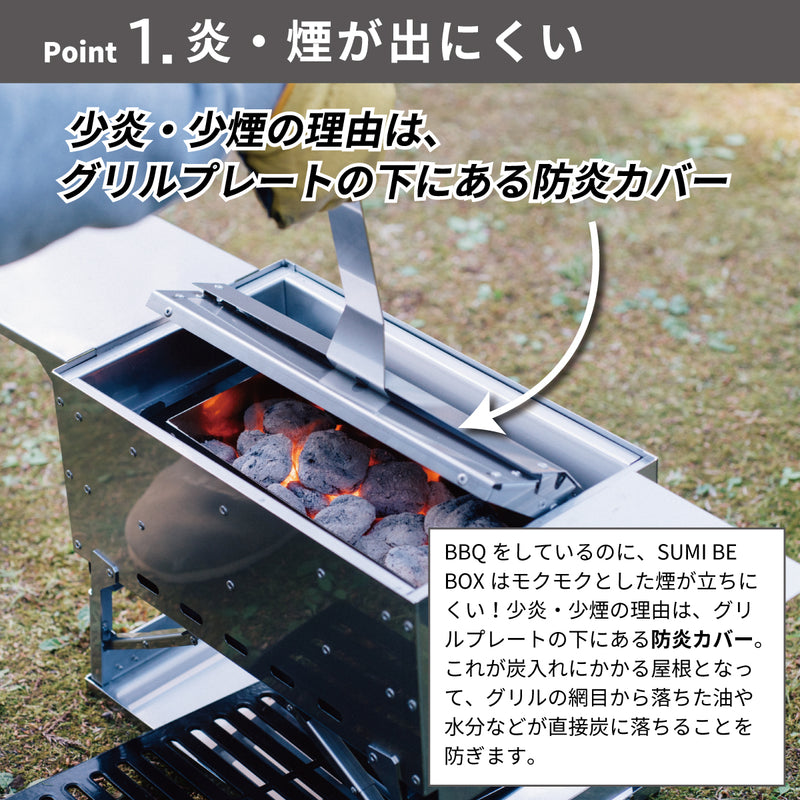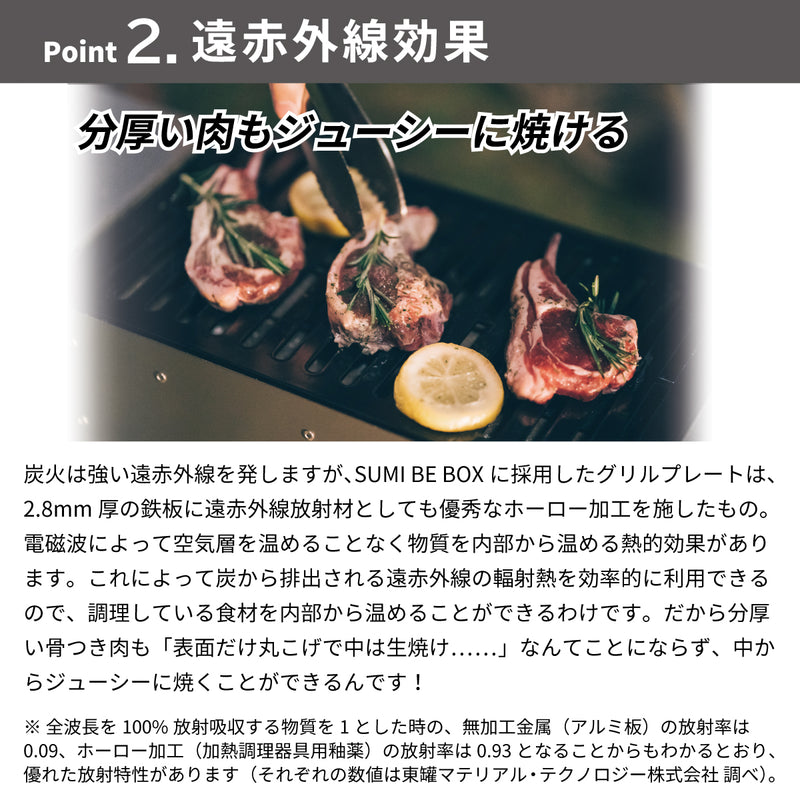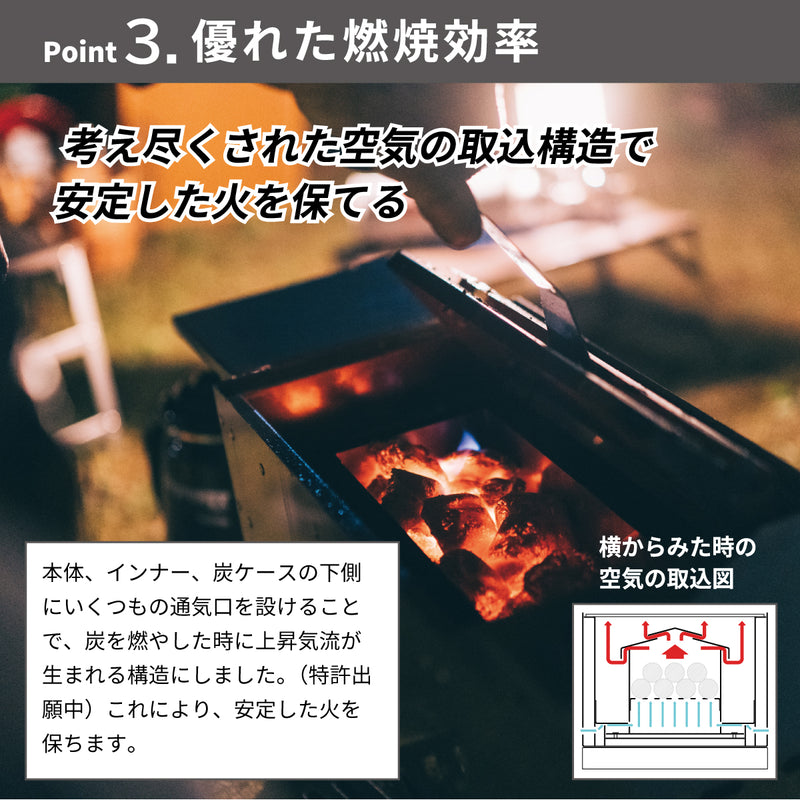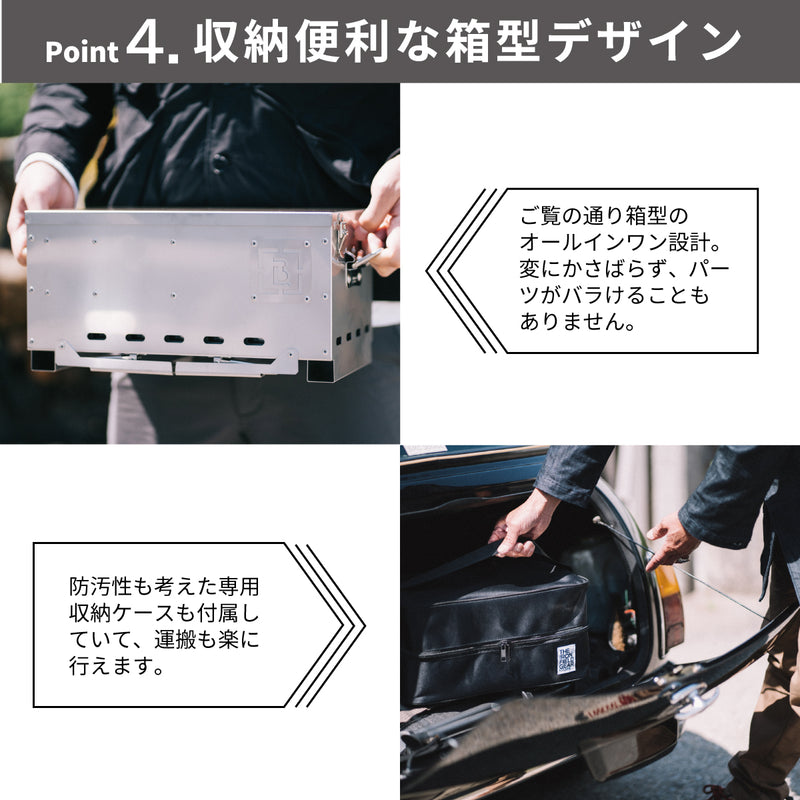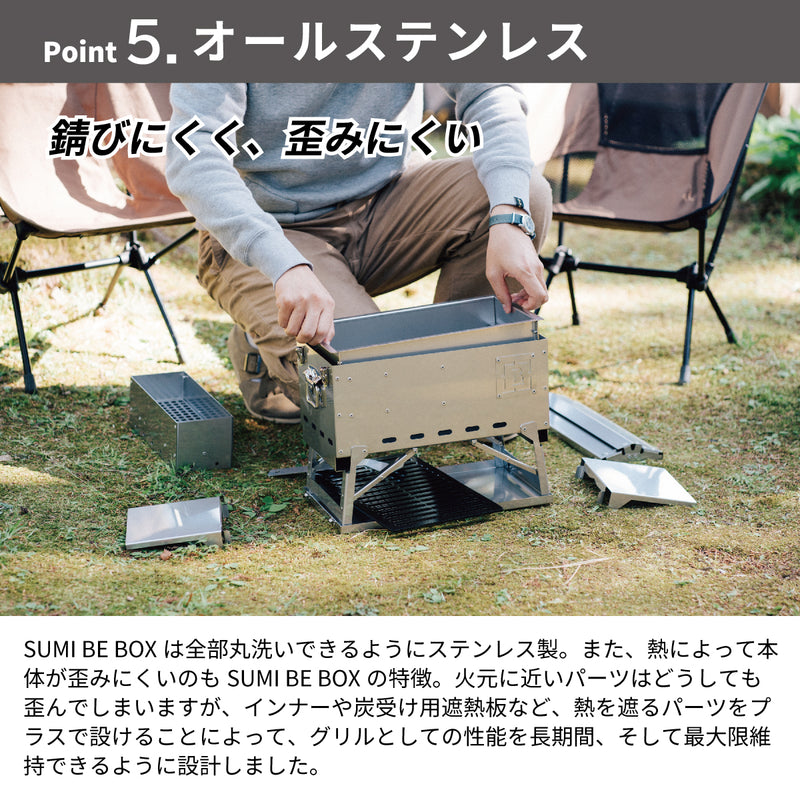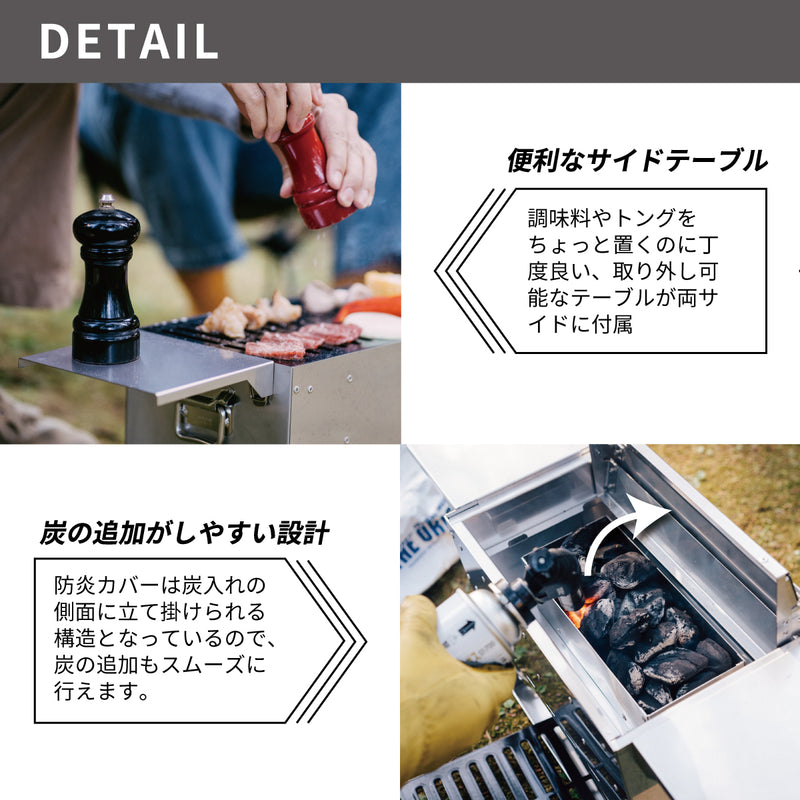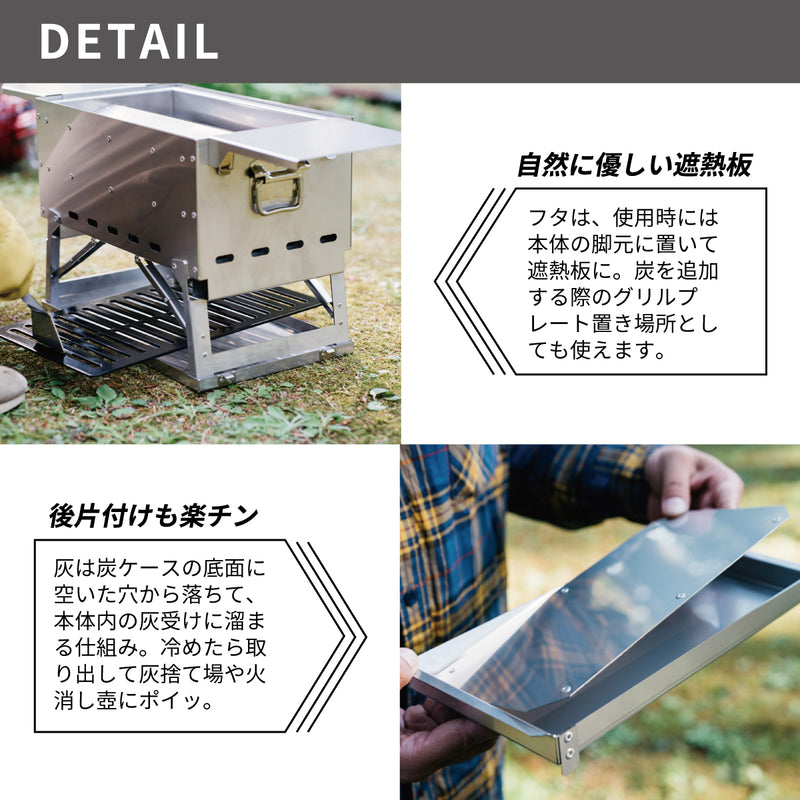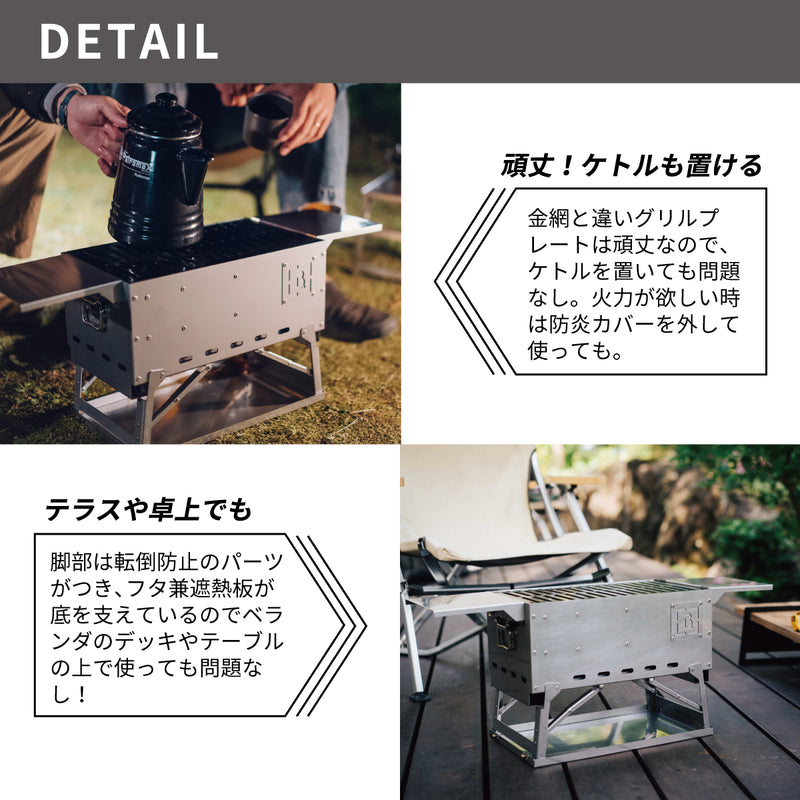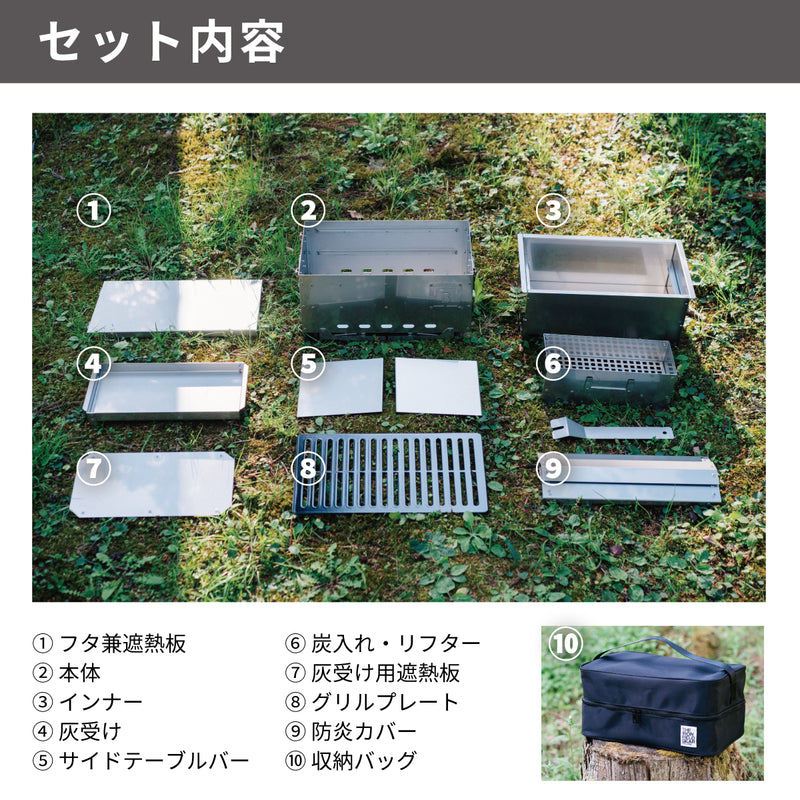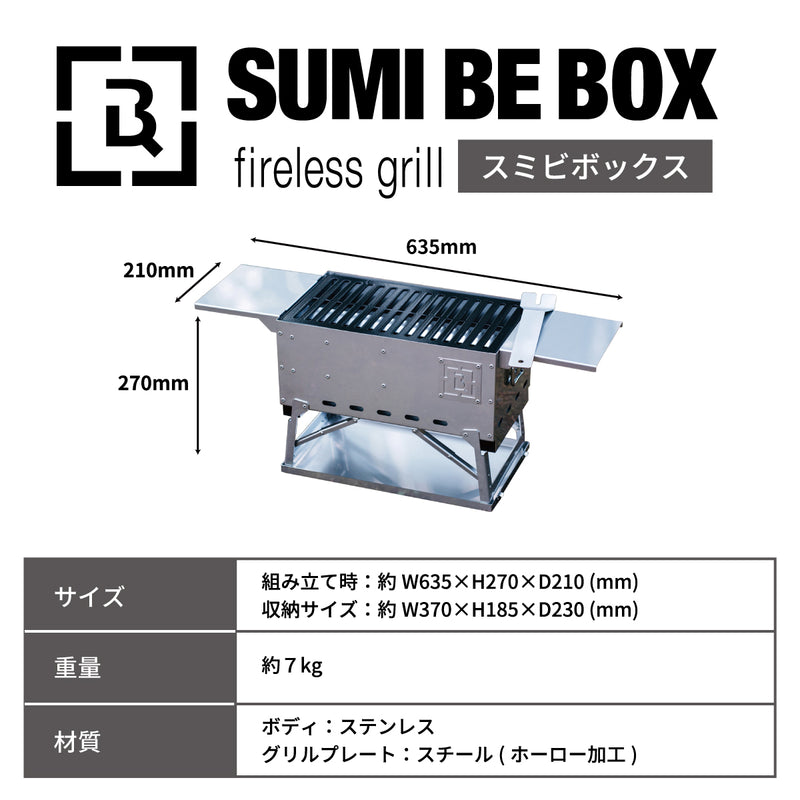 ◆Spec
set content:
・Body (lid, side table, grill plate, etc.)
・Carrying bag
Size: Assembled size: about W635 × D210 × H270 (mm)
Material:
Body: Stainless steel (0.8mm thick )
Grill plate: steel (2.8mm thick ) enamel processing
Weight: about 7Kg
Notes:
・This product is designed for outdoor use. Do not use indoors or in tents.
This product does not completely prevent flames and smoke. Flames and smoke may occur depending on usage conditions. Please understand in advance that it is not possible to prevent flames and smoke, especially when baking a large amount of greasy ingredients.
About maintenance
Clean the main unit and grill plate thoroughly with a neutral detergent for kitchen use, wipe off the moisture with a dry cloth, and dry.
Using a steel scrubber or polishing powder will damage the enamel surface. Wash with a soft sponge. Cleaning with baking soda is also recommended.
◆ Product description
The main body has a double structure that creates rising air currents, and the charcoal container has a roof that keeps oil out.
High spec BBQ stove

Oil and water do not fall on the fire , so flames are less likely to occur and smoke is less! In other words, you can cook delicious ingredients!
The grill is made of enamel-finished iron. It is non-stick, has good heat storage, and heats ingredients from the inside with far infrared rays!
Box design for convenient storage. The body is made entirely of stainless steel , making it easy to wash and resistant to warping, so it can be used for a long time.
◆This is Takeda from Fish Hook!
A robust BBQ grill unique to THE IRON FIELD GEAR, which has metal processing and shipbuilding technology as assets! Fits compactly in the included carrying bag It is also very easy to use. I don't want to wear it with others... I want a cool BBQ stove! The one who says. Sorry I made you wait! !
5 amazing things about Sumibibox!
Amazing ① "Fire and smoke are hard to come out"

Even though I'm doing a BBQ, the SUMI BE BOX doesn't emit thick smoke! With this, you won't have to say the cliche, "For some reason, the smoke is always coming toward me (laughs)"!?

The reason for the low flame and low smoke is the flameproof cover under the grill plate. This acts as a roof over the charcoal holder, preventing oil and moisture from falling directly onto the charcoal from the mesh of the grill.
Oil that has passed through the flameproof cover will fall on the inner part, so you can wash it with the grill plate later.

Amazing 2: "Far-infrared effect heats food from inside"

A charcoal fire emits strong far-infrared rays, but the grill plate used in the SUMI BE BOX is a 2.8mm-thick iron plate with an enameled finish that is also excellent as a far-infrared radiation material .
There is a thermal effect that heats the material from the inside without warming the air layer by electromagnetic waves.
As a result, the far-infrared radiant heat emitted from the charcoal can be used efficiently, so the food being cooked can be warmed from the inside. That's why even meat with thick bones can be grilled juicy from the inside, without the "only the surface being completely charred and the inside being undercooked..."!
* When a material that absorbs 100% of all wavelengths is set to 1, the emissivity of unprocessed metal (aluminum plate) is 0.09, and the emissivity of enamel processing (glaze for cooking utensils) is 0.93. As you can see, it has excellent radiation characteristics (each value is researched by Tokan Material Technology Co., Ltd.).
Great ③ "Excellent air intake structure and combustion efficiency"

There is only SUMI BE BOX, which took more than half a year for research and development, and there is also a general opinion on combustion.

By providing a number of vents on the bottom of the
main body, inner, and charcoal case
,
we have created a structure that creates an upward air current when the charcoal is burned.
(Patent pending)
At first glance, you may think that it is difficult for air to pass through because it is surrounded by a box and there is a cover on top of the charcoal case, but that is not the case! Rather, it has the advantage of maintaining a stable fire even on windy days .

Great ④ "Box design for convenient storage"
As you can see, the SUMI BE BOX is a box-shaped all-in-one design . It is not strangely bulky and the parts do not come apart.

Amazing ⑤ "All stainless steel! Easy to wash and hard to warp"

The SUMI BE BOX is made of stainless steel so that it can be completely washed. ...... Originally, the grill is steel, but it is coated with enamel processing so it does not burn and can be washed with water. No rust unless the enamel is missing.
Another feature of the SUMI BE BOX is that the body does not easily distort due to heat. Of course, even with stainless steel, the parts close to the fire source, such as the charcoal case, will inevitably distort, but by adding additional parts that block heat, such as the inner and the heat shield plate for the charcoal holder, the performance as a grill can be extended for a long time and maximized . Designed to last as long as possible.
Other features
handy side table
Approximately 140 x 208 mm tables are attached on both sides (recommended load up to 1 kg), which is just right for placing seasonings and tongs.
Designed for easy handling of charcoal
The flameproof cover is designed to be leaned against the side of the charcoal holder, so adding charcoal during use can be done smoothly and with little danger.
The lid and heat shield is environmentally friendly

The lid of the box can be used as a heat shield by placing it under the legs of the grill when in use. It doesn't get hot here and doesn't drop ash, but it plays a role in protecting the ground more carefully, and it can also be used as a place to put a grill plate when adding charcoal .
Sturdy enough to hold a kettle <br>Unlike wire mesh, the grill plate is sturdy, so you can place a kettle filled with hot water without any problems. You can remove the flameproof cover and use it when you want more heat, such as when cooking in a skillet or pot.
(Recommended load capacity 10kg)
The ash collects in the ash tray, so cleanup is easy.
The ash falls from the hole in the bottom of the charcoal case and accumulates in the ash receiver inside the main unit. When it cools down, take it out and put it in an ash dump or fire extinguisher .
Here is a picture of the ash tray and the heat shield for the ash tray. The heat shield prevents deformation of the main body and tray. A little ingenuity leads to long life design.

Stain resistant carrying bag included
A zippered carrying bag is also included for convenient storage and transport.
The inside is made of sturdy fabric with antifouling coating.
◆ Click here for usage images and assembly videos